On-boarding customers to enterprise software can be a fairly long & daunting process. There's usually a standard implementation process including setup, configuration, validation & training. The implied follow up to this occurs when the trained users start actively engaging with the software and embedding it into their business processes. Without this adoption and engagement, there's a risk of undervaluing the investment.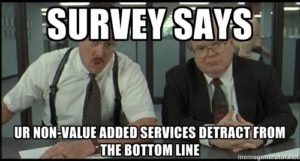 Engagement is not passively granted, but rather actively earned. As part of the project implementation, there needs to be special consideration given to figuring out how to keep users involved & engaged. Here are 3 options for continuing the conversation with the user community:
Develop subject matter experts within each crucial team – Working closely with a few key team members to develop their natural curiosity around your software and empowering them as experts can turn them into subject matter experts and advocates throughout the entire organization. Some ways you can do that is collaborating on a few critical business processes to meet a specific business goal. You should result in showing those users the possibility and delivering them a "aha" moment for them to share with others.
Create opportunities for sharing – This applies to within the organization and with the vendor-organization relationship. Leverage the expertise from your vendor/implementation partner to identify best practices that can be applied to your business. Within the organization, it is rarely enough to wait for serendipitous moments to miraculously occur. Everyone is working towards their own goals, often on their own isolated path. Creating "train the trainer", subject matter expert question time, or brown bag lunch show & tell opportunities can bridge the gap.
Know your path to success – Hopefully, you defined your project success before the implementation. It usually isn't instantaneous in nature, making it even more critical that you define your path to success as well. Understand where you started from, and develop a plan for moving towards that success. Measure your progress regularly and adjust the plan as needed. You may find that you're starting point is different than you thought or it will take longer to fulfill your end goal.
User engagement post software implementation is instrumental in the success of your project. Don't underestimate the importance or complexity of this step.